Nurse Anesthesia alumna pays it forward with scholarship
Leslie Jeter, D.N.P., CRNA (M.S. '90/NA) knew since she was a little girl that she wanted to be in the medical field.
In high school, she spent a "career week" in the operating room of a local hospital in Georgia and knew she wanted to pursue a career in nurse anesthesia. She remembers feeling attracted to the fast-paced environment and analyzing each member's role in the operating room, quickly realizing that the certified registered nurse anesthetist was in charge of keeping the patient alive and pain free during surgery.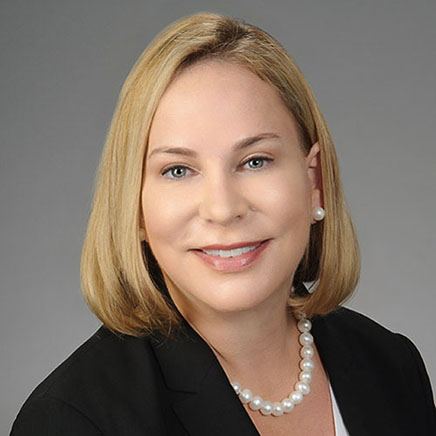 "The [nurse anesthetist] invited me over and answered many of my questions. Once [they] allowed me to squeeze the [manual resuscitator] and I saw the corresponding rise of the patient's chest. I knew that that was what I wanted to do as a career," Jeter said. "I liked that every day is different and that every patient is unique. It is an honor to care for and advocate for patients who are at their most vulnerable."
Jeter graduated from Vanderbilt University in 1986 and worked for a year in the neonatal intensive care unit of a pediatric hospital following nursing school. It was during that time when she started looking for nurse anesthesia programs, specifically for an institution that offered a master's degree in the field. VCU was the first program in the country to offer the Master of Nurse Anesthesia, championed by former Department of Nurse Anesthesia chair Herbert T. Watson. Jeter fondly remembers her days as a VCU student, even though the program was "exacting and rigorous," she said.
Jeter's career has spanned three decades. And she would do it all again in a heartbeat.
"I love being a nurse anesthetist! As an advanced practice registered nurse, a career in nurse anesthesia is a very fulfilling profession. This career has given me much over these past three decades, not just materially," she said. "Professionally, I have been blessed to give back to the profession and serve as an advocate for the profession. Over the years, I've been quite involved in the Georgia Association of Nurse Anesthetists, as well as the American Association of Nurse Anesthetists. I am currently serving as a trustee to the American Association of Nurse Anesthetists Foundation. Most recently, after receiving my doctorate in nursing practice from Emory University in 2017, I am an instructor in the nurse anesthesia program at Emory School of Nursing."
Jeter has decided to leave the VCU Department of Nurse Anesthesia in her estate plans, creating the Leslie Ann Jeter Scholarship in Nurse Anesthesia. The scholarship will be awarded annually to a second- or third-year student enrolled in the Department of Nurse Anesthesia who demonstrates a financial need and is active with their state nurse anesthetist association or the American Association of Nurse Anesthetists.
When Jeter decided to apply to nurse anesthesia programs over 30 years ago, there were no programs in Georgia. While a student at VCU, she received scholarship funds to help offset some of her tuition fees.
"I believe in giving back to the students, especially those facing financial barriers to furthering their nurse anesthesia education," she said. "This is important specifically in this career path because the nurse anesthesia program is so rigorous that most, if not all, students are unable to work while pursuing their degree. VCU holds a special place in my heart. The education I received there has afforded me opportunities I would not have otherwise realized."
Jeter's support will help the department, as private support is sometimes the only support available to graduate students. Students in the nurse anesthesia program are the future of the profession, Jeter said. "If you are able to make a commitment to VCU's nurse anesthesia department, please do so. [Nurse anesthetists] play a critical role in delivering anesthesia care to all surgical patients during the lifespan, from preemie patients to the elderly, spanning all settings in which anesthetics are delivered, from metropolitan cities to rural America."