Health Administration celebrates 70th anniversary
On Nov. 14, 2019, more than 100 alumni, faculty, students, staff and friends gathered at the College of Health Professions to celebrate the 70th anniversary of the Department of Health Administration and attend the Paul A. Gross Landmarks in Leadership annual program.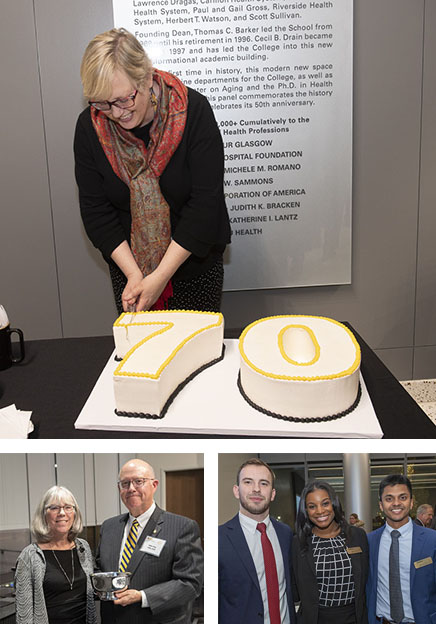 Attendees perused old yearbooks and MCV/VCU memorabilia, watched a slideshow of department people, places and history, feasted on appetizers and a 70th birthday cake, took silly pictures in a photo booth and listened to a jazz trio led by alumnus Andrew Schutte (M.H.A./J.D. '13/HA), associate general counsel for VCU Health.
The program featured a walk through the complementary history of the department and the health care industry through a conversation with Mike King (M.H.A. '78/HA), past president of the Alumni Advisory Council, and Sheryl Garland (M.H.A. '88/HA), chief of health impact for VCU Health, who wove their stories and the stories from other alumni into this constantly evolving landscape.
Following the program, Alumni Advisory Council President Alan Keesee (M.H.A. '09/HA) outlined his goals for the coming year, and board member Tracey Papas (M.S.H.A. '11/HA) described plans for alumni assistance with student recruitment and mentoring. The evening ended with the presentation of awards. Bridget Fitzpatrick (M.H.A. '14/HA) presented the Young Alumnus Award to Alexa Warner (M.H.A. '14/HA), system director, brand strategy for UNC Health Care; Alan Keesee presented the Alumnus of the Year Award to Thibaut van Marcke (M.H.A. '03/HA), senior vice president, Orlando Health; and Terrie Edwards (M.H.A. '84/HA) presented the Lifetime Service Award to Howard Kern (M.H.A. '81/HA), CEO of Sentara Healthcare. Many thanks to the evening's supporters: Bon Secours, HCA Healthcare, Sentara Healthcare, Optima Health, Riverside, Central Virginia Healthcare Executives Group and the Virginia chapter of the National Association of Health Service Executives.