Department of Health Administration classroom bears names of donors
Steve Hoelscher (MHA '77) and his wife, Mary Anna Hoelscher, a physical therapist (U.T. '72), named the large classroom on the Health Administration floor of the College of Health Professions building.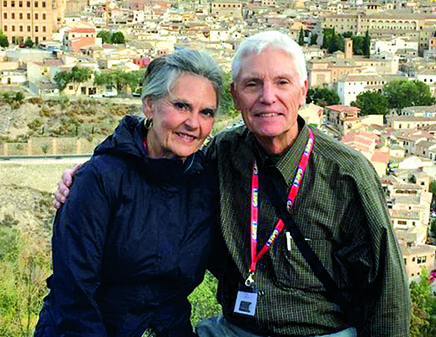 This stunning building is located at the corner of Leigh and 10th streets on the MCV Campus, and houses all nine departments and two programs in the college. Situated on the eighth floor, the 962-square-foot classroom seats 40 students and is equipped with robust technology, including whiteboards for interactive use, and has sweeping views of the medical campus and downtown Richmond. It is located directly across from the department office suite, thus providing ongoing opportunities to interact with faculty and staff.
"Mary Anna and I have been blessed with careers in health care. We have always emphasized the importance of education," said Steve. "My education in the hospital and health care administration program provided me the foundation for my career."
Paula Song, Ph.D., the Richard M. Bracken Professor and Chair of the Department of Health Administration, said the Hoelschers' generous gift makes it possible for students to experience a top-notch education while in the program. She says the space is a reminder of the tremendous importance of alumni support and how it directly impacts the day-to-day experience of the students. By providing this gift, the Hoelschers have shown how to positively impact the student experience and teaching opportunities for the faculty.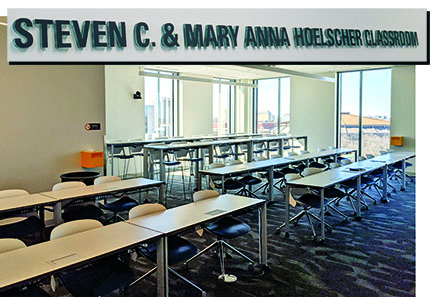 "We are very grateful to Steve and Mary Anna for their generous support," said Song. "This state-of-the-art classroom provides an environment that truly supports innovative teaching methods and inspires learning in a beautiful space while preparing students to be successful health care leaders."
"We appreciate and are thankful for our association with VCU/MCV, and we are humbled to be a small part of the new, beautiful College of Health Professions building," said Steve. "We hope the new classroom will provide an environment for all students to be challenged, motivated and help develop their foundation for careers in health care."