Physical therapy faculty member helps develop alternative to traditional ventilators
In spring 2020, when the coronavirus pandemic threatened our nation's supply of ventilators to support the growing number of patients experiencing respiratory symptoms of COVID-19, VCU Emergency Department physician Benjamin Nicholson, M.D., had a brainstorm: What if he could take a manual resuscitator, the bag valve mask used by first responders and seen on every medical TV show, and automate it? And what if he could make the plans available to other health systems or providers, anyone with access to a few tools and a 3D printer? The device needed to be simple and able to be assembled rapidly.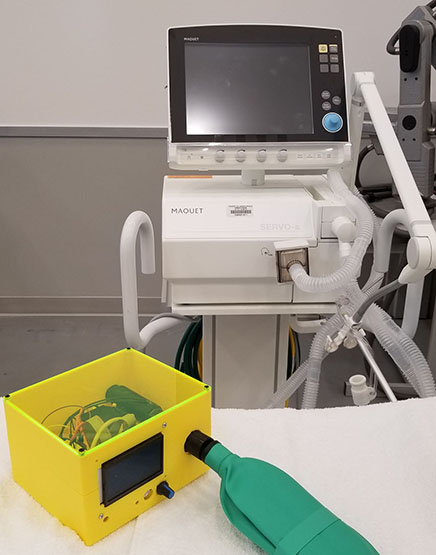 Soon, respiratory care specialists, coders, engineers, graphic designers, nurses, business administrators, faculty and students from across VCU's campuses were at the ready to design and promote a product they hope will save lives in Virginia and across the country.
Peter Pidcoe, Ph.D., D.P.T., a professor and assistant chair in the Department of Physical Therapy, wrote the software that tells the device what to do.
The device to support the bag valve mask is expected to cost around $500 to assemble. Some parts can be bought at a local hardware store; others can be 3D printed. Assembly requires an Allen wrench, a screwdriver, a pair of wire cutters, a hacksaw and glue.
"It's like a mini-vent," Pidcoe said. "It doesn't have all the bells and whistles that a ventilator has, but it is certainly appropriate for maintaining and managing someone."
The device is one of two ventilator projects in the works by teams of researchers at VCU. Pidcoe is also working on a separate design for a splitter that would modify a regular ventilator so the pump could sustain up to four patients.