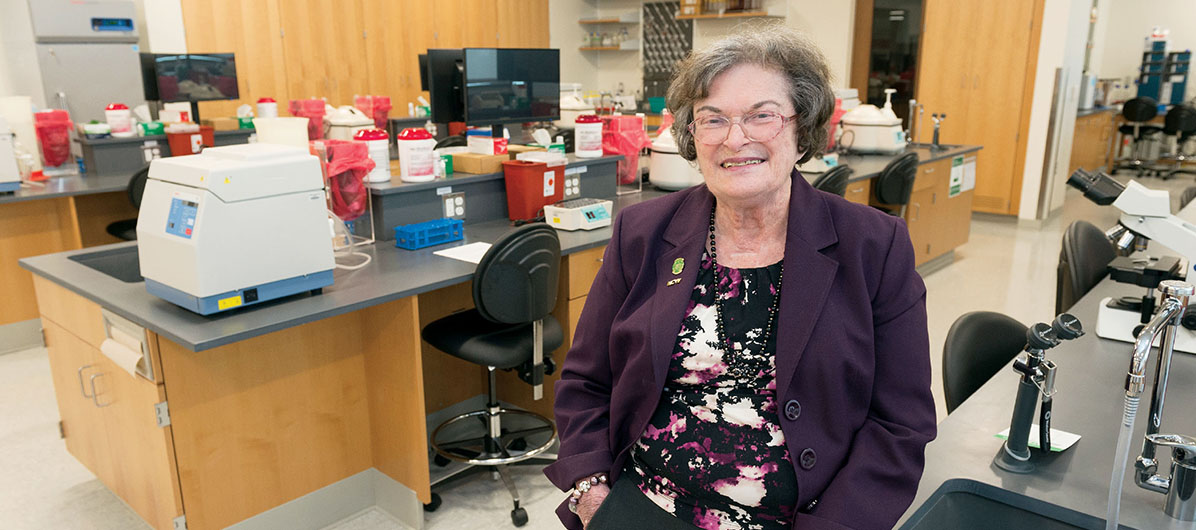 Becky Perdue in a College of Health Professions laboratory
Alumni support lab professionals with planned gifts
In the weeks following the terrorist attacks on Sept. 11, 2001, Becky Perdue received an anthrax vaccine so she could continue to do her job at Virginia's state laboratory for public health testing. The side effects were not easy to deal with, but the precautionary step was essential for someone working on the front line, training laboratory professionals across the commonwealth on how to complete biological and chemical testing.
"That was the first time people really saw that labs exist," said Perdue, who is an MCV Foundation board member and 1962 graduate of what is now the Department of Medical Laboratory Sciences at the VCU College of Health Professions. "These days, labs are finally becoming even more well-known because of coronavirus. People are seeing that somebody has to complete their testing. It's us. We're always on the front line."
The important, yet sometimes overlooked role lab professionals play in public health is why a recent influx in giving to the department has been so important.
"Donations to the department assist us in purchasing the reagents, supplies, equipment and test kits needed to adequately train our students," said Teresa Nadder, Ph.D., chair of the department. "Our alumni are employed in hospital, reference and public health laboratories, many of whom are the leaders in the profession and have played essential roles in providing accurate COVID-19 testing results to our communities. Donations also assist us in providing student scholarships during a time when financial stress is commonplace and the need for more lab scientists is growing."
Much of the recent giving to the department is thanks to Perdue and a letter she sent fellow alumni last year. In it, she talked about her decision to include a gift to the department in her estate plans.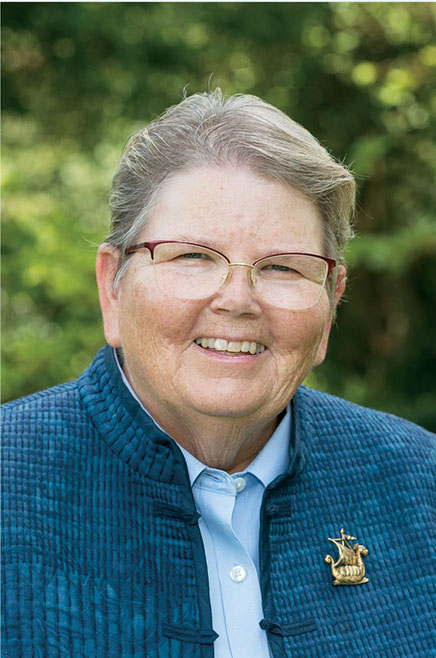 Joan Shumaker, a 1970 graduate of the program, also has made plans for a gift through her will to support the department. "I was an alternate going into that class," she said. "They took a chance on me, and if they hadn't done that, I wouldn't have had the career path that I've had. I hope my gift will help other students, particularly those who were given a chance like I was."
"Especially now, there is great power in what our alumni can do when they come together through philanthropy," said Susan Parish, Ph.D., dean of the VCU College of Health Professions. "The virus is providing us overwhelming evidence about the important work our medical laboratory scientists perform each day, given that they are on the front lines of the testing that is a centerpiece of how we fight
the pandemic."
"In our profession, we don't make big money, but I've always tried to make the point that it isn't the amount that matters, it's whatever you can give," Perdue said. "It helps no matter what it is."